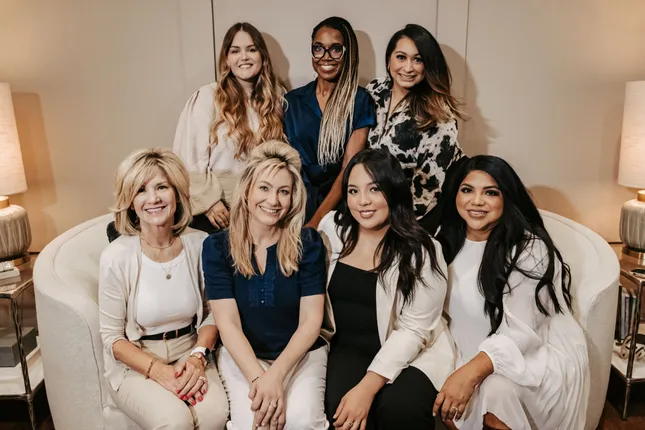 All our professionals maintain the highest levels of accreditation and pursue ongoing education to stay abreast of the latest trends in the medical field. Read on to learn more about our staff's experience and training.
---
Tina Brown
Practice Manager
Hello, my name is Tina Brown and I am the practice manager for this wonderful group of caregivers, called Enlighten Dermatology and Wellness. I have worked for Dr. Wolthoff for several years and I am proud to carry her same values in exceptional patient care.
My journey in the dermatology world has taken me full circle, and has been quite extraordinary. Entering the world as a patient, I needed empathy and understanding along the way for my own care. I discovered how much I loved giving the same care to patients that I had received.
It became important to me, as I joined the dermatology world, to be present and ever-aware of exactly what a patient experiences and I feel I play an integral part in this as a manager.
In my role as a practice manager for almost 10 years now, I stress the importance of every patient, and the experience they have with us. I have a listening ear that has served me well as a manager.
I will go the extra mile to help you personally, in any way I can. Ask for me when you are here just to say hello, or reach out to me anytime I can be of assistance to you. It is our staff's goal to make your experience here one that is simply unforgettable.
---
Karina Luna
Administrative Lead
If you would have told me 12 years ago I'd be working in healthcare STILL and residing in the Great state of Texas I would have told you in my Minnesotan accent, "You betcha wrong!"
Hi, I'm Karina. I started my health care career working alongside our most vulnerable. Providing direct patient care for 8 years to long term patients in assisted living and memory care. Creating strong relationships with patients and their families. Followed by a year in a community clinic with different outreach programs aimed to support families in need often using my bilingual skills. Working in a diverse setting has been both a privilege and rewarding.
When I'm not checking if your insurance is in network or scheduling your next appointment, I spend the majority of my time at home making meals for my family and getting recipes from Pinterest. I enjoy watching any kind of documentary or true crime show. Though I question my sanity when I'm pushing through a workout, I truly do enjoy challenging my body through movement and desire to achieve wellness in all aspects of my life.
I've worked as a Patient Coordinator for Dr. Wolthoff over the course of more than 4 years and have formed professional relationships with many of you. I'm excited to meet again and pick up where we left off as well as meeting all of you looking to achieve your skin care goals for the first time.
---
Liz Whyete
Clinical Lead, Certified Medical Assistant
Hi there! My name is Liz and I'm your ray of sunshine lol. I'm a mom of three amazing and beautiful kiddos Tristen (15), Javion (12), and my Butterfly Princess Nia (1).
I remember watching the show ER at a young age and thinking this is what I want to do, people need me! Though this was a television show, the representation of doctors and nurses tirelessly serving others everyday really caught my attention and as a kid I thought "Wow I want to be someone's superhero everyday. "I have a passion for selflessly serving others and I try to make each patient I come in contact with to feel seen and present hope where they have felt hopelessness. In a world where there is so much hate and chaos there is still room for happiness, kindness, and love. My mottos are, "If you can't find the sunshine be the sunshine" and "Leave a little sparkle wherever you go".
On my off days I love spending time with my kiddos, brunching (ordering cute cocktails a must), watching Sunday football, and attending church.
---
Alex Segura
Aesthetics Lead, Certified Medical Assistant
Hi my name is Alex Segura-Baker. I am a Certified Medical Assistant and Cosmetic Aesthetics Lead at Enlighten Dermatology and Wellness. I attended Sandford Brown for my Medical Assisting Certificate and later attended Ogle School for hair skin, and nails where I received my cosmetology license. I've been blessed to work alongside Dr. Wolthoff since 2013. She is the absolute best and we are so excited for this new journey with her!
My biggest passion in life is making people feel and look good on the inside and out. I love giving advice and tips on skin products, hair, and makeup.
When I am not at work I enjoy live concerts with my husband, I love movies, dinners, and traveling with my family. And lastly, I love letting loose and spending time with my Enlighten Derm family outside of work!
I can't wait to meet some of you and can't wait to see some of you guys again!
---
Makenzie Langley
Administrative Assistant
Hello! My name is Makenzie and I am one of the friendly faces you see at the front desk. I stumbled into the world of Dermatology and patient care in 2021 and honestly thought it was just going to be a stepping stone for me. I was quickly proven wrong and over two years later I can say that working in this field and specifically at this practice brings me so much joy. I love interacting with our patients and finding ways to help make their day just a little bit better, even if that is simply helping schedule their next appointment or recommending my favorite product.
I am so grateful to be a part of this little "dream team" here at Enlighten Dermatology. It truly feels like working with family and I enjoy walking through our doors to do that every single day. Our staff is so incredibly warm and inviting and we make it our goal each day to provide the best service and care for you!
*On my days off you can find me spending time with my family and friends. Some of my hobbies include reading, drawing, painting and designing. I have a passion for learning and creating and love all things related to both!
---